What does vision insurance cover?
Each vision insurance differentiates in coverage. Typically, vision insurance benefits help cover all or part of
comprehensive eye exams
, as well as eyeglass frames and lenses, contact lenses, and even add-on items to glasses, like lens protection or non-glare coatings. The Simon Eye team will help you understand and maximize your benefits so you can focus on selecting the best eyewear to fit your lifestyle.
If you have questions about your vision insurance coverage, call Simon Eye at 302-239-1933 to speak with one of our patient service representatives.
Most vision insurances have a yearly benefit where you can obtain either glasses or
contact lenses
. The Simon Eye team will help you understand what material coverage is available to you during your visit. No matter the vision insurance, we have got you covered with additional options to fit your budget.
How frequently can I use my vision insurance plan?
Many vision insurance benefits renew every year or every other year. Keep in mind; if you do not use your vision benefits annually, you may lose them as some insurances do not rollover. Our team will help you understand the frequency limit to which your insurance plan offers at the time of your annual eye health exam.
I have a medical eye condition or emergency; will my insurance still cover my appointment?
Your primary medical insurance benefits will cover these types of visits in many instances. Simon Eye participates in a wide range of medical insurances to ensure we can provide you with the eye care you need. Our team will help you understand your medical insurance coverage, including your specialist copay, deductible, and co-insurance, if applicable, at the time of your medical appointment.
Does Simon Eye accept my insurance plan?
Simon Eye accepts many insurances because it is our goal to help as many people in need of eye care as possible. To learn if your insurance plan is accepted, refer to the list below.
Aetna
AmeriHealth
Cigna
Eyemed
Highmark BCBS Delaware
Highmark Health Options (Under 19 years old or Medical)
Medicare Part B (Medical Only)
NVA
Railroad Medicare (Medical Only)
Superior Vision
United Healthcare (Medical Only)
Vision Benefits of America (VBA)
Vision Service Plan (VSP)
If you do not see your insurance plan listed, call us at 302-239-1933 to inquire if we accept it as we continually become credentialed with new insurances.
Do not have insurance benefits? Simon Eye will work with your budget to provide you with the best vision care.
If I don't have vision insurance can I purchase an Individual Vision Plan?
Yes, you can purchase an individual vision plan if you do not have an employer-sponsored insurance plan. VSP Individual Plans offer the same great coverage as employer-sponsored plans. The difference is, that it is vision coverage that you can buy on your own. VSP Individual Plans cover the following:
An annual eye exam
An allowance for frames and/or contacts
Coverage for lens enhancements
Click below for more information.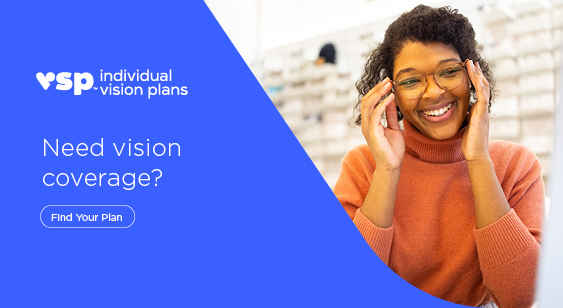 What are HSA and FSA payments?
Some insurance plans offer medical spending accounts, such as
FSA (Flexible Spending Account)
or HSA (Health Saving Account), to use with your insurance that helps financially cover copays, deductibles, co-insurance, and qualified medical expenses. You should contact your HSA or FSA company directly regarding your account and benefits for vision care.
What forms of payment does Simon Eye accept?
Cash
Check
Credit Card
Care Credit Card
Health Savings Account (HSA)
Flexible Spending Account (FSA)